I had serious doubts about the bikes getting us through the trip, and about our abilities to travel alone in unknown territory, on crappy rental bikes without a cell phone. It was then I knew why people shell out big bucks for new, trustworthy bikes and a tour guide.

We got out to the secondary, rural road we needed to be on, northbound to Soria province . There were farms, and rolling hillls of crops, much like Sonoma and Napa in California. Castles kept popping up in the distance. Some rain clouds stuck around, but we only got doused with a few drops.

120 miles later we made it to Almazan, our destination for the night. Almazan was in the midst of their annual pagan festival.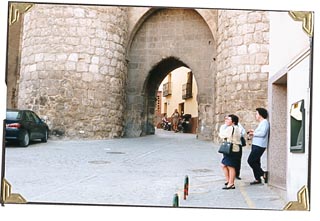 Almazan is a tiny town, once a great fortress, but now a quiet place where everyone knows eachother, and everyone knew we weren't from there. After asking some old, old men dressed in nice sweaters and wearing wool berets, we found the Hostal el Arco, a great little deal for just $14 a night, located just above one of the many bars in town. The barkeep, also the innkeeper, took our passports, said "pay us tomorrow", and tossed our passports behind the bar. Hmmm...what would he do with them? Turns out in many small hostals they keep your passport so you'll pay. Not like in the U.S., where they demand your credit card upfront.
We wandered around to different bars. Ate more fried tapas. Fried fish. Fried eggs. Fried meat. Fried Spam...... Had more cocktails. And more cocktails. Then we realized....the fried food was dinner. There were no 'dinner' places as Americans know them. Bars only. Tapas (RACIONES) only. Spaniards smoke and drink like crazy, but they don't eat a whole helluva lot, which is why we rarely saw overweight people the whole time. Obesity is not a problem in Spain.
We went to bed hungry, feeling more American than ever.