Head fer da Hills!
---
Pico Blanco ... The Hard Way.


Well this one sure scared Rene! Me too actually before I realized it was just a huge garter snake. But we saw all sorts of Flora and Fauna on this trip to Pico Blanco, one of the highest peaks in the Big Sur area. If only we had known there was an easier hike in. After a grueling, steep, long hike, we get to our site for the night only to encounter day-hikers. "You came that way!?" they say. Uh... Yeah! Of course. We meant to. But it was worth it--barely-- to be awakened in the morning by a wild turkey outside our tent, and the best (only?) waterfall we've ever skinny-dipped under. Mighty cold, but about about 15 feet below the roots of 200+ ft. trees. Ahhh... to commune with nature. What am I doing in front of this computer?
A Sinkyone Wilderness 4th of July Holiday
The 10 mile rutted out dirt road to and from this Southern Lost Coast site was half the adventure. Who says you can't ride a street bike in the mud? Not Rene! (Even though she cried for about 5 of the miles!) But we made it. Only to find the campground swamped with rednecks and city folk alike who just have to drive their cars the half mile to the beach from their campsite. With these types all over the campground, it was easy to ditch them on our 7 mile dayhike up in the clouds. Pretty huh? And steep too...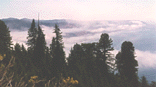 ---
Back to our adventures page