Our First Live-Aboard

Eat... Dive... Sleep... Dive... Eat... Dive... Dive...
---
In September we spent three days living aboard the Vision, diving the Channel Islands off of Santa Barbara, CA with our friends Randy & Sonja. Aside from coming up way too far from the boat once, and dealing with some freaky people on the boat, this was the best mini-vacation we ever had. Anacapa State Park hosts some of the best diving in California. And, thanks to El Niño, the water temperature was between 72° and 84°! That's warm for California. We saw an abundance of sea life and even took a few pictures. Although, we must admit, the good ones here came from Randy. He rented a macro lens setup to capture creatures great and small ... like the illustrius Spanish Shawl, a beautiful little Nudibranch measuring about two inches long, but looking like something from outer space.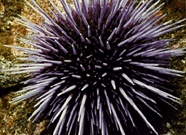 OUCH!!!
Ever been stung by an urchin? Don't Be. As you can see, they grow 'em big down there. Thank goodness Rene is skilled in home surgery. See? If you ever need some, give her a call! At depth, The surge just happened to be a little strong, and Jim got too close. With a footlong needle stuck in his skin (okay, maybe 2 inches long) he swam with his superskilled scuba diving wife through arches, and underwater canyons. That was when a giant sea lion swam behind Rene's head (so Jim says!). He also says it was gone as fast as it appeared, and that's why she didn't see it.
YUM...
Mmmmm....Too bad we couldn't catch any bugs. Lobster season wasn't open 'till the following week, and there were plenty of victims-to-be around. A killer attack one chased Randy after he harrassed it a few times.
Oh Yeah ...
The most ellusive, magnificent fish in the sea, we can't forget our encounter with the rare RatDiver. Although nobody believes us, we also saw a shark on this trip--a large pelagic predator! OK, actually a small leopard shark resting in a hole just minding its own business. Really cool! If only we had the camera on that dive. Or the one where we saw little Mr. Octopus. Oh well, better put one on the Christmas list ... along with BCs, and wetsuits, and tanks and ...
---
Back to our adventures page