We were surprised to see the Man-the-Guitar-God, Carlos Santana on our flight! The whole plane was abuzz with excitement.

A little tip: cocktails are free on overseas flights. Drink plenty of them (but be nice to the staff!). Despite an alcoholic stupor, we didn't sleep much and arrived in Madrid 24 hours later, bleary eyed and exhausted.

We got to our hotel and were introduced to the European way of smoking anywhere, whenever you want, and also the amazing world of European toilets. There is quite a variety of toilets in the world. All different shapes, sizes, flushes, handles!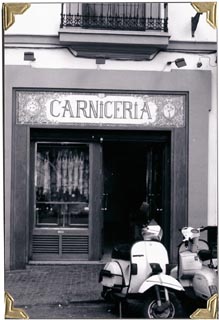 We didn't sleep, but wandered through the city Madrid in a jetlag haze, trying to find the cambio and negotiate our way through the maze of crooked streets. The Prado Museum is a good bet when you've got jetlag as long as you can stay awake through all the tortued Jesus paintings.
Before everything in the city closed for siesta, we found a tiny, I mean tiny smoky little bodega where we had our first tapas. Eggs (rueveltas), bread, more eggs, anchovies (anchoa) and desert (postres del dia). For our anniversary we bought a bottle of Spanish cava and celebrated! We slept that night for 14 hours.
The next day, still exhausted and stunned by Madrid's mass of speeding, tiny cars and motorcycles, we found our way on the Madrid metro to the motorcycle rental shop.

The shop manager was confused by our lame Spanish. After struggling with a few words, we signed something that was like a waiver that said no matter what we wouldn't sue them, and got two very beat up bikes, helmets, bungee cords, and two quarts of oil. But, we had forgotten to bring the tank bag of ours that holds maps on top (you can't just whip out maps when you're riding). We had idea how we would manage to find our way to the highway, much less ride the bikes through Madrid traffic (reportedly one of the worst traffic situations in the world). Maybe the manager saw the look on our faces....thankfully he sent his mechanic to ride alongside us, to escort us out of the city.